Some Useful Tips for Conquering Clutter in the Basement
admin
Let's face it; your basement is the most overlooked area of the house; piles and piles, boxes and boxes of junk fill up the space. Tackling and cleaning an entire floor that has been neglected for quite some time is no easy feat. You might even end up increasing the clutter instead of conquering it. The team at Junk Daddy has collected some tried and tested tips on how to de-clutter your basements and keep them that way. Let's get started.
Work 15 minutes at a Time
It's pretty overwhelming to organize an entire basement in a few hours. Break up the organization time into various 15-minute slots. Take baby steps one at a time, and junk removal will not seem as intimidating and scary as before.
Plan It Out – Know Where to Start From
Don't try to tackle everything at once. First, it isn't going to work. Second, it'll stress you out. Try to deal with everything systematically. Have a starting point, i.e., go from left to right, or vice versa.
Create a Sorting Area
If you're still confused about how to go about organizing stuff, create a separate makeshift area in your home where you can do the actual sorting. Make sure it's in the basement or near it, as junk hauling to and from can get pretty exhausting. Once you have a makeshift place for organizing the clutter, things will get a lot easier.
Designate Zones
Your basement must be packed with seasonal gear and clothes, Christmas decorations, spring clothing, and so on. Start by dividing your storage space into seasons. For instance, one complete top-to-bottom shelf can be designated for the summer season, the next one for spring, and so on. This will make your basement less chaotic and keep the seasonal clutter under control.
Make Them Last Longer: Use Airtight Containers
Make your stuff last longer by putting everything in airtight containers. This will keep the items in good condition, keep them moisture and mildew free, and keep the critters, crickets, and silverfish away. Junk Daddy advises keeping desiccant packets inside each container for moisture prevention.
Label Everything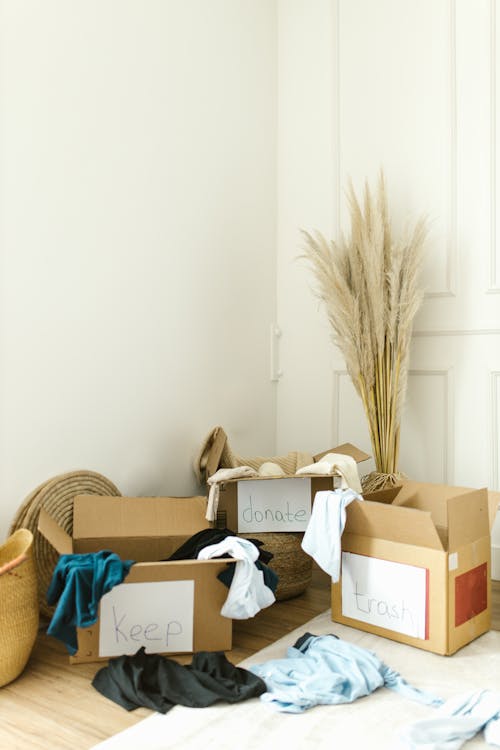 Not Wanted? Stash Them in the Back
All items that you rarely use should be thrown out, donated, or put in the back of the basement out of the way, whereas items you require frequently should be easily accessible. You can even rent out a dumpster from Junk Daddy to get rid of all your unwanted junk once and for all hence freeing-up space in the basement.
Doesn't matter if the trash you're throwing out is a lot, Junk Daddy's rental dumpsters come in a variety of sizes to suit whatever waste disposal needs you might have.
Count On Junk Daddy for Junk Removal
Junk Daddy is one of the leading clean-out services providers in Orlando, FL. Hire us for all your residential junk removal needs. Call us, and let us work our magic.
Contact us today for an instant quote.